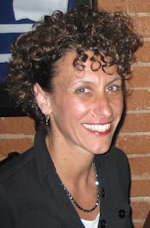 Spanishmania was founded by Martha Romeo whose first language is Spanish.
Martha is also fluent in English, French and German so she knows what it means to learn a language!
Martha has an MBA with a major in Tourism. Her high proficiency in languages together with her education have gotten her the most diverse opportunities around the world. Martha has worked in Germany and Switzerland, in Argentina, the U.S. and the Caribbean. Martha has provided services for the government of Canada; for Missions of the US Department of Commerce to South America; for Team Canada Business Missions to South America; and since her relocation to Canada she's worked for the Calgary Board of Education; Chinook Learning Services; and has become a pre-qualified vendor for Alberta Education in matters related to the Spanish language. She has been teaching Spanish for many other institutions and organizations among which are, to name only a few, the School of Hope and the South Fish Creek Recreation Association.
Martha has broad experience translating and interpreting from and into Spanish and specializes in teaching Spanish as a second language. Her experience of more than 30 years teaching adults and children and developing curriculum and learning materials have given her the expertise to develop and teach unique courses where you learn practical Spanish in a fun environment.
Martha herself provides some of the services offered by Spanishmania and works with other highly qualified Latin American & Spanish profesionals that meet Spanishmania's standards of excellence and practicality.
Her experience living in different countries together with her degrees in Tourism and the contacts she has throughout the Spanish speaking world are combined to provide you with the highest consulting services for your business or relocation.

Martha Romeo is very proud to introduce Spanishmania to you. You're welcome to contact her via our Contact Form.